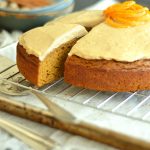 Pumpkin Spice Cake with Maple Frosting
Ingredients
3/4

cup

Pumpkin Puree

1 1/2

tsp

Nutmeg

1

Tbsp

Vanilla Extract

1/2

tsp

Salt

1/2

tsp

Baking Soda

1

cup

Coconut Oil

1/4

cup

Maple Syrup

1

cup

Raw Cashews

1/2

tsp

Baking Powder

3

Tbsp

Cinnamon

4

oz

Coconut Flour

3/4

cup

Coconut Sugar

3/4

cup

Arrowroot Flour

1

pouch

Applesauce

1

oz

Almond Butter

1

Tbsp

Orange Zest

6

ea

Egg

1

ea

Egg White
Instructions
Grease 8 inch cake plan and line it with parchment paper.

Put the pumpkin puree and sugar in a large mixing bowl.

Mix on medium-low with the paddle attachment until combined.

Add 1/4 cup coconut oil, vanilla, and orange zest.

Sift together the arrowroot flour, coconut flour, 2 tsp cinnamon, 1 tsp nutmeg, baking powder, baking soda, salt and egg white.

Add the ingredients together and mix until combined.

Turn the batter into the cake pan. Bake in the center of the oven for 35-40 minutes.

Let the cake cook for 15 minutes in the pan. Remove from pan and let completely cool inverted.
Frosting
Cover cashews with boiling water and soak for 30 min - 1 hour. Drain them and add 1/2 cup coconut oil and maple syrup. Puree until the mix is smooth.

Add 1/4 cup coconut oil, remaining cinamon and nutmeg and applesauce and blend together.

Cover and refrigerate until firm, about 4-6 hours

Mix with hand mixer until it is lighter in color and easy to spread. Then frost cake.